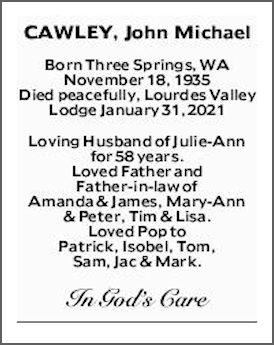 We have been advised of the passing of John Cawley on Sunday 31 January 2021.
His daughter, Amanda, provided the following tribute:
'My dad, John Cawley, passed away on Sunday. He was a very quiet, unassuming man who grew up in country towns all over Western Australia as his school teacher father was posted around. 
Dad always downplayed his accomplishments. He won scholarships to boarding school, topped the state in year 12, studied engineering at UWA and got a Cadetship with Weapons Research Establishment where he worked at Woomera and Salisbury for precisely 40 years. He could never help me with my maths homework because he just looked at the question and gave the answer without being able to explain the intermediate steps.
He met my mother, Julie-Ann, in Woomera in the early 1960s where her father Ken Burke was the pharmacist. We lived in Penfield Avenue at Salisbury until I was 10, which is about the time he took up Mirror sailing with Peter Roberts and later Arnold Deans. In turn, he taught all three kids (me, Mary-Ann and Tim) to sail. In retirement, Dad did an enormous amount of charity work, especially for Rotary and St Vincent de Paul. 
My parents were happily married for 58 years with Dad devotedly caring for Mum as her early-onset dementia progressed. For once, dementia is a blessing as Mum isn't completely clear about who has died. Dad's health had been declining and his time had come, but we will miss him.'
Funeral details:
The relatives and friends of the late Mr John Michael Cawley  are advised that his funeral will be conducted in the Heysen Foyer at Centennial Park, 760 Goodwood Rd, Pasadena on Friday, 5 February, 2021 at 10:30 am.

In lieu of flowers, memorial donations to the St Vincent de Paul Society would be appreciated. Envelopes will be available.

If you wish to access the service from a distance, please use the following link in your web browser:

www.livestream.com/accounts/8710393/events/9511497

(Private cremation to follow)