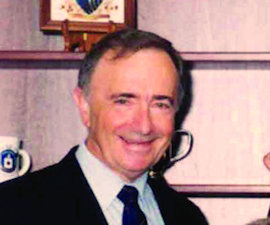 Many alumni would know Dr Tony Donohoe, CONDS(B) in Washington around 1980, returning to Australia as CDS's Staff Officer, then Director of International Programs in DSTO HQ Canberra for many years until about 2008. Tony passed away on 20 March 2020 in Canberra following a series of seizures in hospital.
People who would remember Tony include previous CDS's (Dr Richard Brabin-Smith, Dr Ian Chessell and Dr Roger Lough) current chiefs Dr Lynn Booth and Dr John Riley, and many more people inside and outside the S&T organisation. Up until the time of his hospitalisation, Tony would often be seen out walking near his home in Yarralumla ACT.
He is survived by his wife Geraldine and several nieces and nephews. A family funeral was held on 27th March.
The following image is from Connections magazine Issue 257