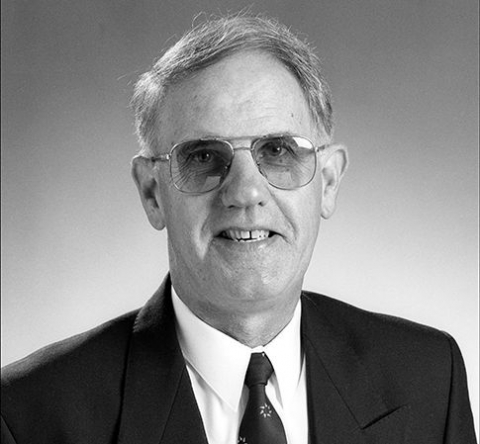 Former Director of Defence laboratories at Maribyrnong and Fishermans Bend Wynford Connick passed away on 14 September 2017 in Melbourne. He was born in Swansea, UK, in 1934 and graduated from the University of Wales with a BSc and MSc in chemistry in 1955.
After a career in the UK Ministry of Defence he moved to Australia to lead research in explosives and ammunition, becoming Director of DST's Materials Research Laboratories (MRL) in Maribyrnong in 1983. Wynford set about reorganising MRL in accordance with outcomes rather than disciplines. In 1994, when DST's laboratories were rationalised, he became Director of the newly established Aeronautical and Maritime Research Laboratory (AMRL) which encompassed all Victorian activities.
Wynford had the foresight to identify information technology as a future capability and started a cadetship to transition staff from other science disciplines into IT, both for scientific computing and for IT support. Staff recognition was also high on his agenda. He established the MRL Excellence Award for scientific and engineering staff and the Technical Excellence Award for technical staff. Wynford himself received the Secretary of Defence's Achievement Award in 1995 and the Australian Centenary Medal for contributions to defence science in 2003.
One of his significant achievements was his contribution to the Inhumane Weapons Convention, precursor to the Chemical Weapons Convention.
After retiring in 1996, he remained active in the science and the research community and continued to take an interest in DST. He would frequently provide positive feedback on articles in DST's staff magazine Connections. One such comment, after DST alumni began receiving PDF versions of the magazine, was to say, 'It is good to see Connections return and in the high quality that is now available with internet magazines. It will be greatly appreciated by all the alumni who continue to have an interest in DSTO; congratulations to you and all who have worked on its return.'
Wynford, along with fellow leaders Richard Brabin-Smith, Bill Schofield and Scot Allison, are credited with reshaping DSTO's culture during the 1990s, fostering a push towards a goal-oriented organisation responsive to the wishes of its key clients.
Privilege to have known Wynford
Alumnus Dr Richard (Brab) Brabin-Smith (Chief Defence Scientist 1993-2000) provided the following reflection on Wynford.
It was a great privilege to have known Wynford and to have worked with him. He was well known and respected in Defence outside DSTO, and when I became CDS, I quickly found that he deserved all of this reputation and more. He was a fount of wisdom and experience on his areas of DSTO's science, on his scientists, and on DSTO's place within Defence more broadly. I came to rely on the soundness of his advice and his good judgement, including his insistence on telling me what I needed to hear. If he had a reputation for being a bit conservative at times, it was more a case of being cautious (perhaps a characteristic of all energetic chemists) and waiting for the evidence. In any event, over his many years in DSTO, Wynford had seen his fair share of new ideas turn out to be more hare-brained than helpful, as he would often remind us, usually with much mirth all round.
I was very thankful that he was welcoming to me as the new CDS and that, later, he took up my invitation to be the inaugural Director of Aeronautical and Maritime Research, taking on the hard work of integrating the sometimes warring tribes at Fishermans Bend and Maribyrnong. He didn't need to be told twice when I said that I wasn't interested in micro-managing him: Melbourne was his fiefdom and he should get on with it, which he did, with great assurance.
Wynford was the soul of discretion on his time at Aldermaston (at least to me), but he did enliven an otherwise dull meeting of CDSAC (CDS Advisory Committee—CDSAC dull? How could that have been?) with his story of how 'as a little boy' he had met Charles de Gaulle, then the exiled leader of the Free French during the second world war, at the Welsh National Eisteddfod. With Wynford's interest in music, it was only natural that we should engage a soprano soloist to sing at the dinner of his final 'Augmented CDSAC'—and of course, the repertoire included Welsh songs, with at least one sung in Welsh. And so Wynford's formal involvement with DSTO came to an end and he went into a well-deserved retirement. We should be so grateful that he and his family chose to come to Australia, that he worked here to such good effect, and that he gave so much to his new country.