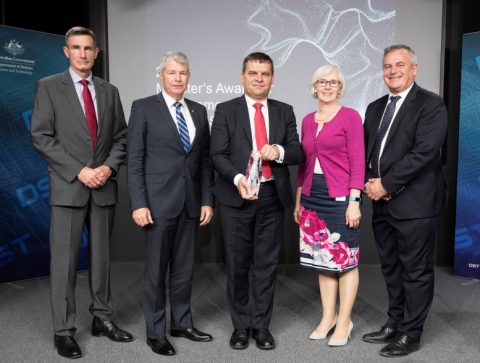 Dr Andrew Piotrowski from the Cyber & Electronic Warfare Division has received the 2018 Minister's Award for Achievement in Defence Science for his innovative work in developing force protection systems that protect Australian soldiers from improvised explosive devices (IEDs).
The award was presented to him at a function in Canberra by the Assistant Minister for Defence, Senator the Hon David Fawcett on behalf of the Minister for Defence, the Hon Christopher Pyne MP.
Over a period of 20 years Dr Piotrowski has developed a range of counter-IED systems that have saved the lives of Australian and coalition troops in Afghanistan and Iraq. They include the Redwing and Silvershield suite of equipment for dismounted soldiers and armoured vehicles. These systems have earned $85 million in export revenue.
"The contribution I make at DST is very close to my heart as an engineer," Dr Piotrowski said on receiving the award which is presented annually to recognise original and outstanding contributions for enhancing Australia's defence effectiveness and efficiency.
Several alumni took the opportunity to attend the presentation ceremony and hear the Annual Defence Science Lecture delivered by Ms Zenka Mathys.