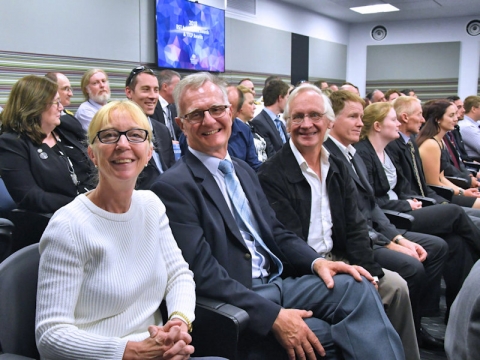 A number of alumni accepted CDS's invitation to attend the 2018 DST Achievement Awards ceremony held on 16 November, including three former Chiefs of Division, Jim Smith and Drs Jennie Clothier and Tony Lindsay. The event was an opportunity to celebrate excellence by the individuals and teams that make up the organisation, and included presentation of The Technical Cooperation Program awards as judged by the TTCP Principals.
The event also marked the final day of Dr Alex Zelinsky at the helm of DST after almost seven years. Department Secretary Greg Moriarty spoke in genuine praise of DST's work in support of the department, of Dr Zelinsky's leadership of DST and also of the part he has played as a member of the Defence senior leadership team. Director Defence Science Communications Jimmy Hafesjee gave a synopsis of the 'firsts' for DST during Dr Zelinsky's leadership and Acting CDS Dr Todd Mansell presented Alex with a gift to recognise his service to Defence Science and Technology.
In addition to the award presentations and farewell to Dr Zelinsky, the opportunity was taken to publicly recognise the contribution of Professor John Henry Carver, who was then elder professor and head of physics at the University of Adelaide, in co-leadership of the WRESAT program.  A framed collage of the Australia Post WRESAT first day covers and stamps was presented to his son, Professor John Carver on behalf of the Carver family. Three copies of this collage were made, one hanging in the Office of the Secretary and the third at DST Edinburgh.
The afternoon was a great opportunity to share a sense of pride in the achievements of DST, those who comprise the organisation, and those who share its goals, both past and present.